20 April 2019

Administrator

0
Determined to deliver on the rail project, the Minister of Transportation, Mr. Rotimi Amaechi, has assured that by early June, the rail transport system would be ready for use between Lagos and Ibadan.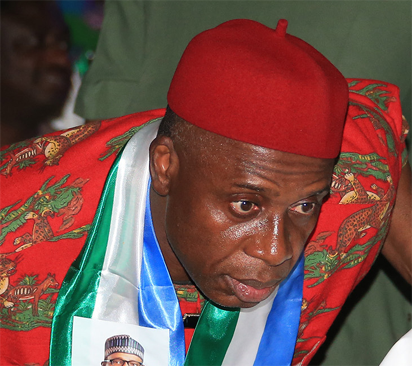 The Lagos-Abeokuta rail had been completed earlier in the year as passengers were offered three-month free ride. The period of free ride was however shortened.
Amaechi, who spoke to journalists at the weekend, noted that his commitment to the full take off of rail transportation in Nigeria was to make life better for Nigerians.
He undertakes rail inspection trips sometimes twice a month.
The Ghanaian government recently sent a team, led by its Minister of Rail Development, Hon Joe Ghartey, to understudy the progress being made in Nigeria's rail projects.
The Lagos-Ibadan rail project is being executed at the cost of $1.6 billion and being funded with a loan from the Chinese government.
He explained that the hitherto abandoned Itakpe-Warri rail line had been completed and commenced operation.  It shall, for a start, be carrying 100 passengers per trip, until more coaches are purchased.
Comment:
Not sure if or why HMT would knowingly provide/disseminate such false information. The journalists on HMT's site visits must also be complicit in this wholesale misleading of the Nigerian public.
The media has recently been awash with such imprecise and moreso outrightly false information about railway projects.
1. Lagos-Ibadan will not be completed in June 2019 for crying out loud! It is just not true or feasible. The stations have not been built. Neither have the telecoms and signalling. Putting trains on any completed sections of track to carry the public as they did in Feb/March would constitute a serious health and safety risk.
2. The work from Iju to Apapa is perhaps the most challenging part of this contract and has only recently commenced. It will take at least a year to complete by any credible estimation. So why do they keep announcing these impossible completion dates?
3. The Warri- Ajaokuta- Itakpe line is also not complete either. The telecoms and signalling by ZTE is not yet complete. Neither are the station buildings being built by CCECC. FEC only last week approved N1.8bn to rehabilitate the railway village in Agbor. So how can they claim completion? Not sure the contract was abandoned in recent times per se. There is a dispute with the original contractor Julius Berger, which has still not been resolved, arising from the stoppage of the work by the govt of a certain Maj. Gen. M. Buhari in 1984 so it could be probed. The contract has been proceeding in fits and starts since ÙMYA as a result.
4. Suffice that running trains with passengers on completed sections of track while stations and signals are under construction poses a significant health and safety hazard.
5. A railway is of course not just about the track alone. It is an entire integrated system consisting in the simplest terms of track, bridges, signals, telecoms, stations, depots, rolling stock and operatives, working in harmony to a complex and credible operating plan.
6. The Lagos-Ibadan contract with CCECC is officially due for completion in May 2020 but the HMT has continually announced that it would be completed in half the contracted duration of 36 months while not empowering the same contractor to complete the work in the shorter period.
7. The Lagos terminus is at Ebute Metta. To get there from Iju where they are at present though a mere 20km or so, will take some serious engineering and construction feat. Many bridges will have to be built over the track where existing level crossings are on busy roads in Yaba, Jibowu, Mushin, Ilupeju, Ikeja, Ashade etc. In all, about 15 such bridges are required. The existing narrow gauge track will be relocated along with its station buildings that are to be demolished to make way for this standard gauge line. There are also buried services within the right of way such as gas pipelines and water pipes, electricity pylons and substations etc, telecom cables and signalling towers and equipment etc to be relocated. Have they all been relocated?
8. The work to the line from Ebute Metta to Apapa port also presents significant and logistical challenges. A distance of only about 6km but involves major demolitions in the port to reclaim the right of way and the realignment of port operations. The existing road over rail bridge at Costain will also be demolished and rebuilt. New road bridges would need to be built at existing level crossings, such as at Nigerian Breweries Iganmu, and obstructions from piers to Apapa road flyovers will need to be navigated or rationalised, among so many other encumberances.
9. That is only as far as the fixed infrastructure is concerned and there is no way that these outstanding works can be completed by June or say in 6 weeks time. So who is zooming whom? It's just not possible. Even a year may be a tall order!
10. Now, the most critical part of any railway system is the operating plan. How many trains are you going to run? Are we running trains for show or are we really serious? What mix of freight and passenger trains? Both are quite different businesses, so who will run each of them? Is it the same NRC that we know? Do they have or are they actively building the capacity? Have they recruited or trained any crews for this service? A close look at current Abuja-Kaduna service shows that the Chinese are driving the trains. Why? Don't the NRC have train drivers? Why can't a private concessionaire be appointed to operate the railway if the NRC isn't?
11. If we are serious about railway, then we should plan to run hourly trains at least from the get go. That would require about 20 locos and 200 coaches. Have we ordered them? The last report claimed 64 coaches had been ordered for use on Abuja-Kaduna, Warri-Itakpe and this Lagos-Ibadan. No word on locomotives. Even the 64 coaches haven't been fully paid for apparently. So, are we really serious about running a railway or just paying lip service?
12. As for the fundamentals. How are we going to sustain the railway going forwards? Whereas these mouth watering billion dollar loans that are piling up will not be paid for by the railway. Notwithstanding, none of the railways being operated by the NRC to date make or can dream of a profit. Indeed their operating ratio of around 300% is perhaps the worst in the world. What that means, is that our railway spends N3 to earn N1. The balance N2 is the subsidy from you and I to keep the railway running inefficiently as it does. The day we take away that N2, is the day the railways will pack up again. With debt service at 60% of govt revenues, that day may not be far off. So it's only a matter of time before our railway history repeats itself if we carry on as we are. There are alternatives however. We just choose not to take them.
13. What has happened to the concessioning of narrow gauge to Transnet of South Africa? Since GE backed out last year without consequence, no meaningful word has been heard about it. So what has happened to the Locomotive Assembly plant that was to be built by GE? What has happened to the Railway University to be built in Rivers state? Or are we just building sand castles in the air? Why do we allow ourselves to be deceived and repeatedly misled so?
14. If truth must be told, the record of performance of the railway in the last 4 years has not much differed from the past. While this HMT may have seemed to be sympathetic to reform, no tangible reform has taken place as the transport sector reform bills initiated by the GEJ govt have not made it into law in these past years, nor have the railway operations been concessioned as promised. All we have had is the usual lots of motion but no real movement. Just that lip service was added to the mix this time. As usual, lots of money has gone down the drain with it.
15. For the past 4 years, the NRC has operated without a Board in breach of the law. A 26 man Board has belatedly been constituted in the twilight of this govt but even that is also in breach of the Statutory Corporations etc (special provisions) Act which limits membership of the Board to no more than 14.
The NRC continues to regulate itself and remains the only entity authorised by law to build, own, operate and regulate railways. None of which it does well. The FMT continues to build railways in conflict with its role of policy formulation and parastatal supervision.
So the more things CHANGE, the more they have stayed the same.